Maybe you are asking yourself why you should spend money on socks. What's the point of buying something almost nobody can see, right?
Wrong! It's your time to shine with socks from Aliexpress! And what's best? You can get most of them for less than 2 dollars!
Check out these 16 handpicked socks, click on the link, don't forget to check the size (most of them have one universal size) and get ready to stand out from the crowd! Let's go!
♂ Business Casual Wool Socks – 1.79$
Want to stay warm but fancy? Need to get to your work on Wall Street but it's freezing outside? Say no more! With those fashionable wool socks, you can achieve anything you want!
Get on Aliexpress

♀ Alpaca Socks – 2.37$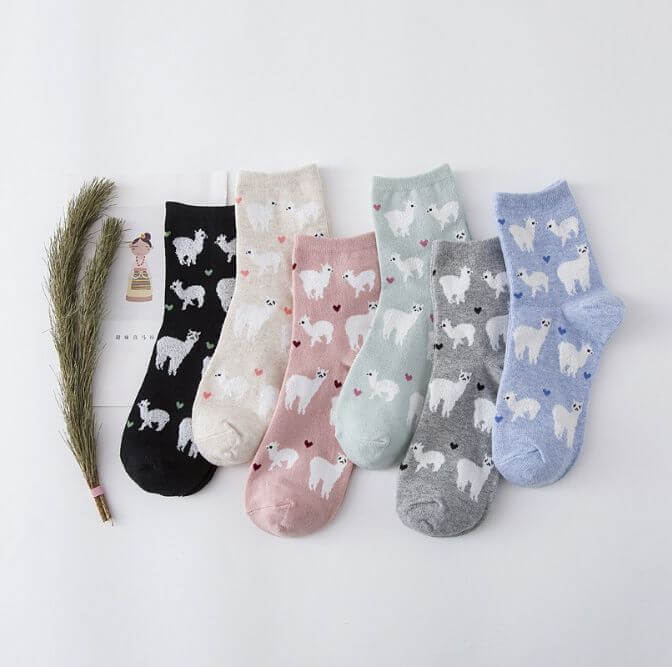 Hey, it's not a llama, alright?
Okay now, what to say, choose one (or more) from almost 20 alpaca designs, buy those cuties for 2 bucks and show your love for the best animal you can dream of.
Get on Aliexpress

♀ Cat Socks – 0.59$

Looking for unique cute socks for less than a dollar? Then you found them.
For only 59 cents you can choose from a variety of colors and designs. Prepare for an overload of cuteness whenever you take your shoes off.
Get on Aliexpress

♂ ♀ Art Socks – 1.54$
Can you imagine owning one of the most famous artworks? Mona Lisa by Leonardo da Vinci? The Scream by Edvard Munch?
If you don't mind wearing it on your feet we definitely have something for you…
Get on Aliexpress ♂

Get on Aliexpress ♀

♂ ♀ Superhero Socks – 0.79$

Superman, Batman, Captain America, Iron Man, Spiderman and a lot of other superheroes. These all can accompany you wherever you go.
Feel the strength with your superhero socks.
Get on Aliexpress

♀ Fruity Socks – 1.34$

Do you know that feeling when you want something you absolutely don't need?
Do you think that avocado socks could be it? Nah, you definitely need it, trust me.
Get on Aliexpress

♂ Happy Business Socks – 1.88$

Don't miss out the newest trend of funky business socks and show your colleagues that you have style.
Happy business socks are great not only for your serious job, but you can wear them wherever you go. Parties, sports, weddings – it's up to you.
Get on Aliexpress

♀ Funny Animals Socks – 1.29$
Ugh! Other cute socks?
Yes, yes, I know, but these are too good to pass. With over 25 designs there is literally zero chance you won't find any to fell in love with.
Get on Aliexpress

♂ ♀ Weed Socks – 1.87$
If you prefer more casual socks you will love these socks with weed leaves printed on.
If you like to get high or not there is something unique about those socks that will make you look really comfy.
Get on Aliexpress

♀ Funny Fruit Socks – 1.18$
Do you want to entertain your friends? You can absolutely do it with those funny fruit socks.
C'mon, just look at these fruit faces!
Get on Aliexpress

♂ Flamingo Socks – 1.98$
Do not trust anyone who says that flamingos are only for girls!
Feel manly in those pink flamingo socks and enjoy all the ladies falling down on their knees (to admire your socks of course).
Get on Aliexpress

♀ Cute Unicorn Socks – 1.80$
Are you tired of telling everyone that you ARE cute? Let your socks to talk instead of you.
Choose one (or more) from 9 designs and let the party begin.
Get on Aliexpress

♂ ♀ Star Wars Socks – 1.83$
If you are a Star Wars fan (so everybody) then you will love this! Is there anything cooler than those socks? Can't think about anything right now. Buy them till you can!
May the Socks be with you.
Get on Aliexpress

♂ Flames Socks – 1.43$
Oldschool Fire Socks. You love it or you hate it. There is nothing in between.
So buy them or skip them, easy like that.
Get on Aliexpress

♀ Pokemon Socks – 1.39$
Pika.. Pika… Pikachu!!
These socks are must-have for any Pokemon fan. There aren't many of those playing Pokemon Go but that doesn't mean you can't wear those anywhere you go!
Get on Aliexpress

♂ "Fuck" Socks – 2.69$
Fuck socks! I mean… socks with the word "fuck" written over them.
These socks will undeniably help you to get over a boring business meeting or long Friday in school. Just be careful who you are showing your feet.
No longer available, sorry

Hope you had fun while reading this post. Don't be shy and tell us in comments which of these socks you bought.
While you are waiting for a new post, you can follow us on Facebook, Twitter or Instagram!. Thanks!